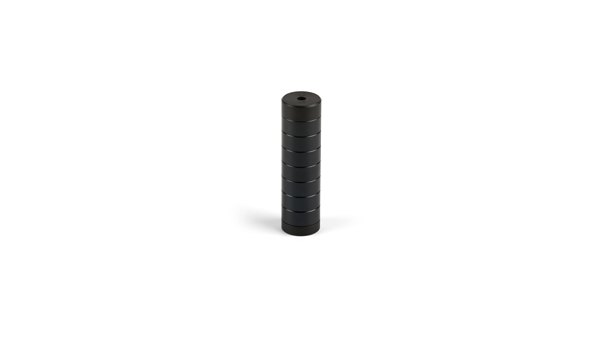 22 LR Mini-silencer
Schultz & Larsen mini-dampers are produced for the smallest caliber. 22 LR is a classic salon rifle silencer that is ultra-light and super functional. The silencer was developed after a rough hunt in the forests around Skanderborg, where the need for a lighter and shorter silencer arose. At the same time, it should work on both repeat and semi-automatic salon rifles. Then Schultz & Larsen 22 LR was developed and with its short structure it is great to shoot with, as it preserves the balance in the rifle when, for example, you are in regulation in the raw colonies. The silencer is dimensioned so that it fills and weighs as little as possible, while providing a good damping.




The silencer is available with a ½ UNF-20 thread, which is a standard thread for small game rifles.
Additional Information

Like the other silencers from Schultz & Larsen, 22 LR is made of high-strength aluminum. Since the gas quantity is so relatively small on this caliber, the silencer has been developed without a pressure chamber. Thereby, the muffler can be made shorter and lighter. The modules in the silencer quickly and efficiently wind up the powder and make it a must-have. It comes standard with 8 modules but can be expanded with up to 5 additional modules. This is recommended if you use high-speed ammunition. The silencer is only available as the front mount, since the small calibers do not need to reduce the pressure, as the amount of powder gas is limited. The surface of the silencer is black anodized to protect the surface of the silencer against corrosion.
Assembly and M

aintenance



The silencer is easily mounted without the use of tools. It is screwed onto the pipe until it meets its flange. Only then is the muffler straightened and it will sit straight and centered. The above is under the assumption that the thread of the rifle pipe is correctly made.
The silencer requires a minimum of maintenance. After use, remove the muffler to dry it for any. condensation and rainwater. After approx. 300 shots are used a brass or copper brush in oversize to release any. potting residues around the inner hole, after which vacuuming from both ends.
 22 The LR muffler is controlled and specimen-mounted by specially trained professionals for checking the straightness.
WARNING! Be aware that the muffler can reach extremely high degrees of heat, so you should not touch it after prolonged firing series.