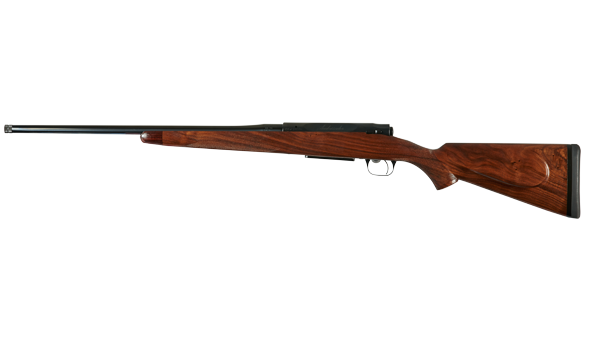 Ambassador
A modern classic
The Schultz & Larsen Ambassador is for those who want a beautifully crafted rifle with the traditional look of 'English best'. The smooth cylindrical lines of the action match perfectly with the traditional English stock. The stock carries fine cut chequering at 22 lines per inch, a comfortable open radius grip and "tames" recoil in a way that makes it pleasant to use.
The unique manufacturing process that Schultz & Larsen use in their cut rifle barrels, in combination with the stress free "match-grade" barrel steel, bring unique precision.
Details
The Ambassador system is made of steel, which means that all parts are machined from solid steel which is then hardened, polished and burnished. Action and barrel are perfectly centred in relation to each other for optimum alignment between barrel and bolt.
Schultz & Larsen Ambassador has the familiar silky smooth bolt and glass-like crisp trigger which ensures every shot release is an exquisite pleasure. It has 3 – point safety allowing the possibility of unloading whilst in the safe mode. The Ambassador is predrilled for traditional bases or Picatinny rail.  Schultz & Larsen manufacture suitable bases and mounts and Picatinny rails in 0 MOA, 10 MOA and 20 MOA. Please find them here.
System
The Ambassador comes standard with a grade 1 stock and black recoil pad, a precision cut rifle barrel in standard caliber and a removable 3 shot magazine. Like all Schultz & Larsen rifles, the Ambassador has an interchangeable barrel system which means that you can easily switch between standard and magnum calibers.  When changing from a standard to magnum calibre you must also change the bolt.
Ambassador is available in both a right-handed version and a full left-hand version. It has adjustable trigger  and removable 3-shot magazine.
Ambassador is available in
Standard caliber
22-250                 308 win
243 win                30.06
25.06                    6,5-284
6,5×55                  7mm-08
270 win                8X57 JS
7×64
Magnum caliber
270 WSM              7mm rem mag
300 win mag        300 WSM
338 win mag        358 N mag
458 win mag
An additional bolt is required when switching from standard to magnum calibers. If you´re looking for other barrel or caliber variations, please find it in barrel options.