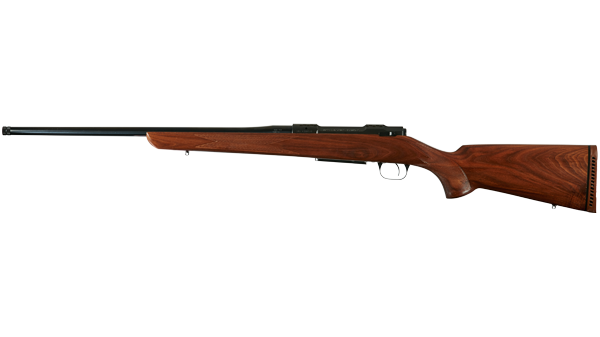 Classic
The benchmark in any class
Highly accurate machining together with the large range of calibers together allow you to own this top class rifle at a very fair price.
All parts are machined out of solid steel bar.
All parts on the rifle are made to last through a lifetime of hard use.
Schultz & Larsen never compromise accuracy which in this case means that the Classic DL rifle comes with a highly accurate, top of the line, cut rifled barrel.
You can compare it with any rifle on the market and immediately see that the Classic DL is way ahead of any other rifle in this price segment.
Details
The Classic DL rifle has no compromise on quality or precision.  It is characterized by having the same great features that all Schultz & Larsen rifles are known for, but with less detail.  Fitted with a true Schultz & Larsen cut rifled barrel, this is a top product at an extremely reasonable price.  All parts of the Classic DL are produced from the finest material using the latest technology and generations of knowledge. The Classic DL is an ideal choice for those who want a stable rifle for hard continuous use where functionality is paramount.
The unique manufacturing process that Schultz & Larsen use in their cut rifled barrels, in combination with the stress free "match-grade" barrel steel, brings a unique precision.
System
Classic DL comes with a standard grade 1 stock, a highly accurate cut rifled barrel and is available in a large range of calibres. Like any other Schultz & Larsen rifle, the Classic DL has an interchangeable magazine and barrel system. In that way you have the opportunity of easily and quickly changing barrel and calibre. It is also possible to change between standard and magnum calibres, simply by changing the barrel and bolt for the magnum version.
With an average weight of just 3.4 kg, the Classic is the ideal carry rifle.
Schultz & Larsen Classic DL comes in either a right handed or a full left handed version.
The Classic DL has integrated bases in the action and is also pre-drilled for traditional bases or Picatinny rail. Schultz & Larsen manufacture their own mounts and Picatinny rails in 0, 10 and 20 MOA.
Classic DL is available in:
Standard caliber
22-250                 308 win
243 win                30.06
25.06                    6,5 x 284
6,5×55                  7mm-08
270 win                8X57 JS
7×64
Magnum caliber
270 WSM              7mm rem mag
300 win mag        300 WSM
338 win mag        358 N mag
An additional bolt is required when switching to magnum calibers. If you´re looking for other barrel or caliber variations, please find it here.
Classic DL is also available In a Traveller version here