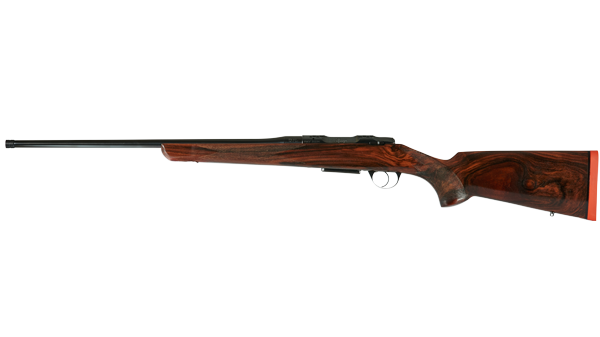 Legacy
Some small world news …
Schultz & Larsen Legacy is the latest rifle in our range. Small and handy, but at the same time extremely precise and stable rifle. Legacy is a pleasure to shoot with and an ultimate companion. It's for those who have a special need for a rifle for pest control and for the smaller deer species where these calibres are legal. The rifle's short and compact construction and low weight gives the shooter more energy to concentrate on the important things – namely, to be observant and constantly ready to provide a safe and accurate shot when the chance arises.
Details

All parts of the Legacy are machined from solid steel, which is then hardened, polished and burnished.  The action and barrel are perfectly centred for optimum alignment between barrel and bolt.
The unique manufacturing process that Schultz & Larsen use in their cut rifled barrels, in combination with the stress free "match-grade" barrel steel, brings a unique precision.
Schultz & Larsen Legacy is available immediately in a right-handed version and a full left-handed version is planned for the end of 2016.
Like all Schultz & Larsen rifles, the Legacy features the removable and interchangeable barrel system. Thus, you can quickly and easily replace your barrel with another of the same calibre group. It uses the same bolt for all calibres and, because the barrels are extremely reasonable in price, you have the chance to own a Legacy in 4 different calibres.
System
The Legacy rifle has the familiar silky smooth bolt, and the glass brittle trigger, ensuring every shot-fired is an exquisite pleasure. It has 3- position safety with the possibility of unloading in the safe mode.
The Legacy has a detachable steel magazine, with room for a total of 4 cartridges. The interchangeable barrel system makes the rifle a veritable playground for the big boys.
Legacy has integrated bases in the action and is also pre-drilled for traditional bases or Picatinny rail. Schultz & Larsen manufacture their own mounts and Picatinny rails in 0 MOA, 10 MOA and 20 MOA.
Legacy is available in:
222 rem
223 m/ 8″ twist rate
223 m/ 10″ twist rate
6×45
300 black out
If you are looking for other barrel or caliber variations, please find it here.