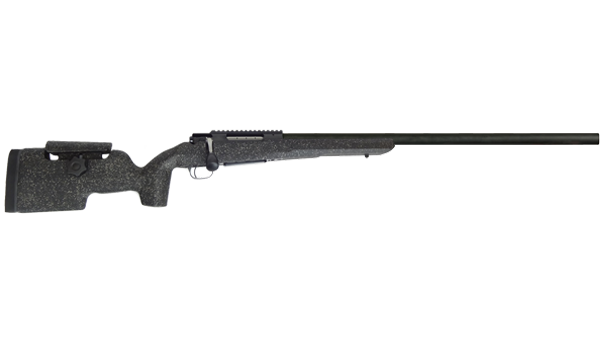 Tactical
Stability and integrated Picatinny rail system
The Schultz & Larsen Tactical is for those who want a rifle with a stiff action and thus greater stability. The Tactical has a brutal appearance – born with an action that has a built-in Picatinny rail. This allows the optimum installation of special mounts such but also the newly developed Picatinny mounting system from Schultz & Larsen. Additionally, it provides great opportunities for installation of night vision sights, which usually requires the riflescope to sit further back.
Details
The Tactical is the only Schultz & Larsen rifle which is produced in two different kinds of metal, either the high strength aluminum or steel. Both models have great stability, however, the aluminum model is lighter than the steel model – about 400 g.
Tactical model comes standard with a barrel of 74 cm and a diameter Ø27. It has an interchangeable barrel system so that you can quickly and easily replace your barrel with a different caliber. The Tactical also accepts other Schultz & Larsen rifle barrels.
Tactical found only in a right-handed version.
System
The Tactical is supplied with 6 shot magazine as standard, but will accept the smaller capacity magazines if required. Two bolt handles, large and medium, are included.
As standard, the Tactical is fitted with the excellent Schultz & Larsen designed 2-stage trigger.  The first stage of the pull takes up 60% of the pull weight making for a very light and crisp final break.  This trigger allows absolute precision whilst retaining adequate sear engagement to ensure safety in all conditions.
Tactical available in the following calibres:
Tactical is Available in:
Standard calibre:
308 win                               6,5-284
30.06                                   6,5×55
Magnum calibre:
300 win mag                    7 mm RM
300 WSM                        270 WSM
338 W                             358 NM