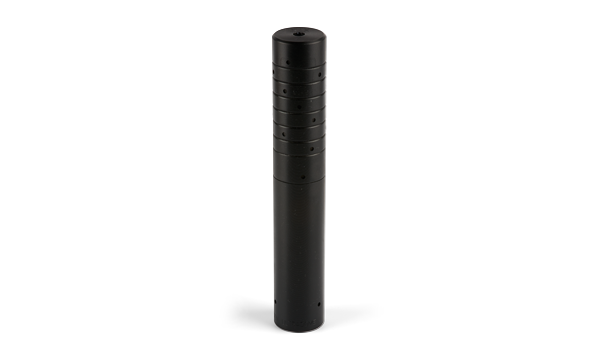 Ultradome
Ultradome is a silencer specifically designed for hunting. It is the thinnest silencer in the popular "Dome" series. A highly efficient, high-performance and low-weight hunting damper. Ultradome is a pleasure to shoot with and gives you a much better shooting experience. The large recoil attenuation provides increased accuracy and makes you an even better shooter. Ultradome has a built-in Duo-Brake and is available in both a telescopic and front-mounted version. The silencer is only recommended for standard calibre and shorter shot series, due to its low weight.



Additional Information
The Ultradome silencer is produced in high-strength aluminum. The silencer consists of a rear chamber, a front chamber and 6 rotary vane elements with built-in stainless steel-conuses. The entire Dome range differs from other silencers on the market, by having a significantly larger volume in the rear chamber. This reduces the pressure so that the powder gas is dropped out of the silencer more slowly, thus providing a significantly better sound attenuation. The rear chamber is made of one piece of aluminum without joints. The front chamber wraps duo-Brake, which reduces the wear of the silencer and duo-Brake gives the thread double support to prevent the damper from being struck skewed between the threaded flange and pipe flange. In addition, Duo-Brake causes the silencer to be further tightened at the release of the shot by means of the powder gas. The modules are equipped with stainless steel inserts to reduce wear and tear. The Dome series has a very close-fitting slat, which causes the powder gas to go through several chambers and therefore provides a better sound attenuation. Ultradome comes standard with 6 modules. For further dampening it is possible to buy and install additional 5 modules. The surface of the silencer is black eloxated to protect the surface of the sound attenuator against corrosion.
Installation and Maintenance
The Ultradomedome is available with a range of different thread sizes, depending on the size of the rifle pipe. It fits all rifle pipes that have a diameter up to ø18 mm. The silencer is easily installed without the use of tools. It is screwed on the pipe until it meets its flange. Only then is the silencer corrected and it will sit straight and centered. The above is under the assumption that the rifle pipe thread is properly executed. The sound attenuate requires a minimum of maintenance. After use, detach the silencer to wipe it off if necessary. Condensation and rainwater. After approx. 300 shots use a brass or copper brush in oversize to release any Powder residue around the inner hole, then vacuumed from both ends. All of the Dome silencers are controlled and tested by specially trained specialist personnel for control of the accuracy.
WARNING! Be aware that the silencer can reach extremely high heat degrees, so you should not touch it after a long series of shots.