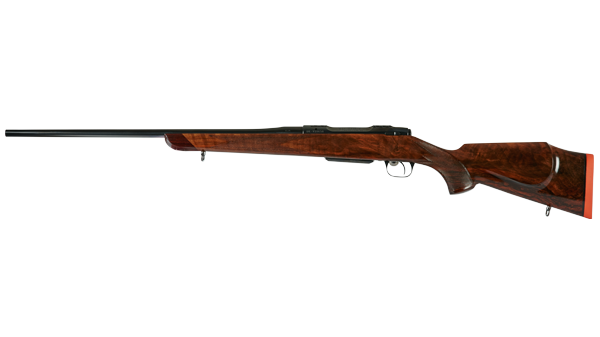 Victory
The best of 150 years of Schultz & Larsen combined in one rifle
With the Victory rifle everything steps up a gear. An extremely precise and stable rifle but also a classic that has proven it's worth over a number of years.
The model has been subject to many years of continuous refinement to design detail. For many, it is an absolute first choice for hunting or on the shooting range.
The Victory is for those who want a rifle that has been pampered in all machining processes. It is a companion for life, with plenty of warmth and soul.
The Victory is the top-selling rifle from Schultz & Larsen and the best, due to accuracy, machining and fine details.
Details
All parts are made from solid steel bar and are completed with more detail to design and shape, than our other rifles. Therefore, our Victory rifle has the most work hours added into the product. Like the Classic DL it comes with a high accuracy top of the line, cut rifled barrel. Schultz & Larsen only use first quality barrels and actually, the barrels are the world famous ones, established through more than 150 years.
The Victory Rifle has an interchangeable barrel, and a huge selection of calibres and barrel profiles. The new Victory action is not just dropped out of a machine and every single action is checked for perfect alignment to the barrel and the integrated Slide & Lock mount system.
The Victory is a rifle of higher value than the price indicates and it is hard to find better anywhere – some might say impossible. It guarantees excellent performance for unforgettable hunting moments.
System
The options of a crisp 'glass-like' direct trigger or 2-stage 'Match' trigger are available at no additional cost. The first portion of travel in the 2-stage trigger takes up 60% of the total pull weight leaving a light final stage with no compromise to the sear engagement or safety of the rifle.
The Victory rifle is prepared for slide & lock assembly systems (such as 1 ", 30 mm, 34 mm, 36 mm and the Zeiss rail system) but is also pre-drilled to accept traditional bases or a Picatinny rail.  Schultz & Larsen produce both mounts and Picatinny rails in 0, 10 and 20 MOA. Please find Picatinny rails here
A bolt closing angle of 60 degrees, in combination with a silky smooth operation, again make the Victory an obvious choice for the connoisseur.
A three-position safety facilitates unloading in the safe mode.
The technical design, in combination with the stress-free "match-grade" barrel, gives the rifle a unique precision.
Victory is available in
Standard caliber
22-250                 308 win
243 win                30.06
25.06                    6,5-284
6,5×55                  7mm-08
270 win                8X57 JS
7×64
Magnum caliber
270 WSM              7mm rem mag
300 win mag        300 WSM
338 win mag        358 N mag
458 win mag
An additional bolt is required when switching to magnum calibers. If you´re looking for other barrel or caliber variations, please find it here.
More info:
Victory comes standard with a grade 1 stock, precision rifle barrel in standard caliber and a removable 3 shot steel magazine.
The stock features a cheek piece and contrasting grip and end cap. The stock has a brown recoil pad with the option of a red pad starting in grade 3rd. The Victory stock is comfortable to shoot with the design helping minimize recoil.
Schultz & Larsen Victory is available in both right and full left-hand version.
The interchangeable barrel system allows easy switching between standard calibres from .22-250 to 9.3×62 without even changing the bolt.